Update: This event has concluded but you can listen to more sermons at our youtube channel.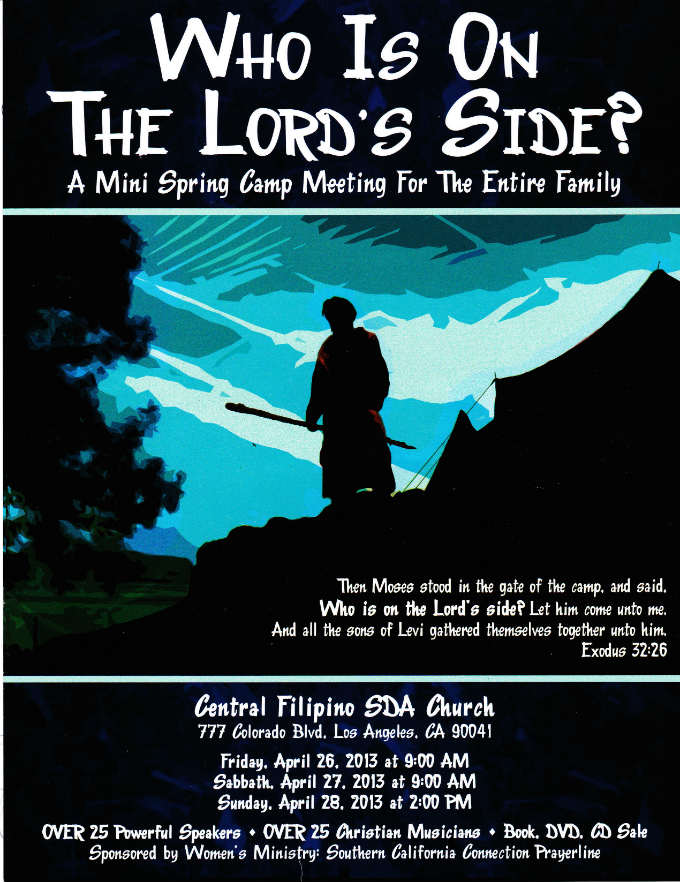 Greetings friends,
We are excited to announce an upcoming 3 day revival event for the whole family entitled "Who Is On The Lord's Side?".  This event will feature over 25 speakers from the Central Filipino Seventh-day Adventist Church's prayer line ministry.  There are many things that we make time for in life.  We make time to shop, we make time to eat, we make time to spend with friends and family, we may perhaps even make time to spend in entertainment or other things which may have little or no eternal value.  Why not make time to seek first the kingdom of God and His righteousness?  In an age where conformity is overruling conversions in the church, in an age where compromise is the new church normal, we must ask the question "Who is on the Lord's side?".  One day Jesus will draw a line in the sand, He will declare "He who is unjust, let him be unjust still; he who is filthy, let him be filthy still; he who is righteous, let him be righteous still; he who is holy, let him be holy still." (Revelation 22:11)  Beloved it is in a time of crisis that Jesus requires His people to take the unpopular side of truth.  Don't you want to be on the Lord's side?  Everyone is invited to this free event, click the "read more" link for additional details, and share this page with a friend.  May the Lord continue to bless you as you draw closer to Jesus.


When?: Friday April 26, 2013 – 9AM-7pm
Saturday April 27, 2013 – 9AM-9PM
Sunday April 28, 2013 – 2PM – 9PM
Speakers Include: Dr. Isaac Olatunji, Pastors Maurice Berry, Robert Dent, Gerzon Gomez, Dwayne Turner, Calvin Tate, Marlowe Parks, Medical Missionaries James Luke, Shubert Palmer M.D., Jan Holmes, Jim Horning, Darin Shaffer, Rodney Bowes, Elders Bert Leverett, Vaughn Williams, Elgin Jenkins, Ron Neifert, Adam Mills, Mike Johnson, brothers Will Fults, Edward Baptiste & more.
Where?: